Fitness Classes & Healing Therapies
At Breathing Place enjoy private & group Yoga & Pilates classes for all levels & stages of life. Our commitment is to create a safe & nurturing sanctuary to learn & practice. Our yoga classes aim to transform your body & balance your mind. Experience transformation. Find everyday balance. Take a breath to live your best life.
Somatic Neck and Shoulder Workshop

Somatic Neck and Shoulder Workshop 2-Hour Somatic Neck and Shoulder Workshop: 10.30am, Saturday 25th April 2020

Do you have tightness in your neck or shoulders? Come along and be guided through gentle, easy awareness-based Somatic Movements and explore ways to create more ease and freedom through the shoulders, upper back and neck. Somatic Movement Education is a gentle, safe and highly effective way to end chronic pain, improve mobility and stability and relieve day-to-day stress. With Somatics, we always work holistically, using processes that re-educate the nervous system and help to restore functional movement. Through awareness and movement, you learn to sense, recognise and release habitual muscular tension and unwind their holding patterns in your body. As the muscles relax and lengthen, your mobility and strength increases, so you can enjoy normal activities in life with more pleasure and ease. This Somatic practice can help to soothe tight muscles, relieve stress and improve body-mind awareness. Leave the workshop with less pain and physical tension, feeling relaxed in your body and mind. This two hour workshop is led by

Deirdre Mullins

Somatic Exercise Coach, Clinical Somatic Educator and experienced Yoga teacher. She is passionate about sharing Somatic embodied practices which improve mobility, stability and function while also helping to relieve stress so we can all experience life more fully.

€

25.00 Add to cart
Flow Yoga
Flow Yoga
5 Week Flow Yoga Course: 8.30pm, Tuesday 21st  January 2020 Flow Yoga (also referred to as Vinyasa yoga) is a movement-based practice. Flow Yoga helps improve flexibility and strength as you weave with the breath through creative transitions that lengthen, strengthen and centre you. Flow Yoga classes start with some pranayama breathing practice then move into gentle stretching and strengthening postures, followed by an easy flow pattern which may focus on hips, shoulders, lower back, or legs. Some postures are held for a length of time using breath work to take your body and mind deeper into the asana and its benefits.
€

65.00
Add to cart
Meditation & Yin Yoga
Mindfulness Meditation & Yin Yoga
5 Week Yin Yoga Course: 6.15pm, Thursday 23rd January 2020 End your busy week with this beautiful calming and deeply relaxing mindfulness meditation and yin yoga class. Mindfulness meditation will help you relieve stress through exploring the habits of your mind. The passive Yin Yoga practice requires as much from the mind as the body as simple stretches are held for between 2-5 minutes challenging the mind to process negative thought patterns in a compassionate and accepting way. Body sensations are navigated by building inner stamina and endurance and developing a mindfulness based meditation practice. As a result, the entire body experiences deep rest. The long holds in Yin Yoga get past the muscles and target the connective 'yin' tissues - joints, ligaments, tendons and fascia that wraps around your joints, muscles and organs. Yin yoga will simultaneously promote and maintain mobility as connective tissue is safely and therapeutically stretched, stimulated and strengthened. This Yin Yoga practice will change the way you go through life, creating the internal peace required to "respond" instead of "react". Leave feeling relaxed both in body and mind.
€

65.00
Add to cart
Pilates Mat – Mixed Level
Pilates Mat Class
5 Week Pilates Mat Mixed Level Course: 8.30pm, Thursday 23rd January 2020 Pilates mixed level is the next level up from beginners and helps enhance your co-ordination, strength and correct posture to build your core stability and strength. Incorporating strength, mobility and stretching movements. With modifications offered for beginners, our Pilates Mixed Level Mat course will challenge mobility and stabilisation through the core and peripheral muscles while adding flexibility and suppleness to your body. STOTT Pilates® is a contemporary adaptation of the original Pilates exercise method pioneered by the late Joseph Pilates.
not rated
€

65.00
Add to cart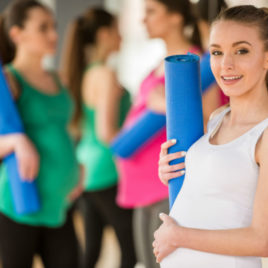 Pregnancy Yoga (14+ wks)
Pregnancy Yoga | Prenatal Yoga
5 Week Prenatal Yoga Course (14+ weeks pregnant): 7.20pm, Wednesday 15th January 2020
Gentle and safe pregnancy yoga is open to all levels and offers a refuge of peace and inspiration to celebrate your body and baby throughout pregnancy. Pregnancy Yoga classes focus on breathing, gentle stretching and include a generous relaxation to totally let go. Prenatal yoga offers many wonderful benefits for the mother-to-be. Gentle stretching exercises will help ease new aches and pains of pregnancy that you may not have experienced before such as lower backache. Pregnancy yoga can help to strengthen the muscles in the back which help to support the weight of the baby. Prenatal classes also teach breathing methods to stay focused and keep the body and mind relaxed during labour. As the body's balance is altered during pregnancy, prenatal yoga may help with stability. Pregnancy yoga can also ease the discomforts of pregnancy, such as moodiness, shortness of breath, swollen ankles, nausea, indigestion and insomnia. Pregnancy yoga classes will teach you yoga postures to help you be more comfortable throughout your pregnancy, relaxation techniques and yoga for birth, allowing you to approach labour calmly and confidently. Classes are also a great way to meet other mums-to-be especially if you are new to the Clane area and a lovely safe space to share concerns and excitement. There is also a NEW Morning Pregnancy Yoga Class:
Monday Morning Pregnancy Yoga at 10.30am
€

65.00
Read more