Meditation & Tai Chi Classes
Showing all 3 results
Mindfulness Meditation & Tai Chi Classes
Meditation helps you change your relationship with stress and how you handle what life throws at you. A regular meditation practice can help copy with anxiety, anxiety attacks, depression and stress. Our classes are designed for beginner's looking to begin a Mindfulness meditation practice and learn relaxation techniques. Our aim that is you will have greater ability to cope with anxiety and stress, learn to relax and enjoy a greater enthusiasm and energy for life.
Tai chi is often described as "meditation in motion". It originated thousands of years ago in China as a martial art and seeks to use internal energy (Qi) for good health. Tai chi is a low-impact mind-body practice that involves a series of slow, flowing motions that combine movement, meditation, and rhythmic breathing. Tai Chi helps restore health, reduce stress prolong life, improve balance and heighten creativity. The regular practice of Tai Chi teaches you to relax your body and mind to develop natural awareness of yourself and your environment, helping you function more productively in day to day life.
Restorative Yoga & Meditation Workshop
End of Year Melt
In-studio Christmas Restorative Yoga & Meditation Workshop: 5pm, Saturday 16th December 2023 Join us for an End of Year melt as you carve some space to turn inward from the pre-Christmas busynes. Settle into stillness and find balance in this quiet end of year restorative workshop.  Replenishing your energy levels and down regulate your nervous system. Soothing restorative yoga poses are blended with meditation and relaxation to help you just 'be' in the present moment with your breath and body. This is a very slow paced workshop using multiple props such as blocks, straps, bolsters or blankets to help you find a place of comfort and help hold the poses for a longer period of time. The restorative yoga workshop will end with a deeply soothing guided relaxation helping the mind to go into deep relaxation and allowing you to leave feeling calm and grounded. Restorative Yoga offers a chance for the body and mind to take some well needed time out and unwind in a series of supported postures. Restorative Yoga and Meditation can help release muscular tension, boost your immune system and balance your nervous system. This yoga and meditation workshop is a held space for you to connect more deeply with your own life force and internal rhythm, and to honour these. No previous yoga experience needed. Bring an open mind and heart and our experienced instructor will take care of the rest.
not rated
€

28.00
Add to cart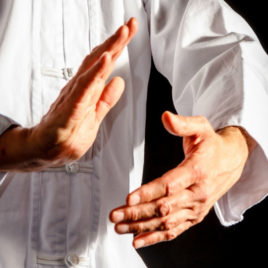 Tai Chi Class
Tai Chi
5 Week In-studio Tai Chi Course: 7pm, Tuesday 9th January 2024
Tai-chi consists of slow flowing movements which build strength and stamina.  Mobility, flexibility and balance steadily improve with regular practice.
Tai-chi helps release stress and anxiety.  The practice of Tai Chi boosts immunity, aids restful sleep, helps reduce blood pressure and joint pain.  Practicing Tai-chi results in an overall sense of well-being and is suitable for all ages and fitness levels.
Classes begin with a warm-up designed to loosen muscles and joints in preparation for practice.  Meditation and gentle breathing exercises are  also part of this Tai Chi course.
not rated
€

75.00
Add to cart
World Yoga Day – Hope Foundation Charity Yoga Event
Meditation & Yin Yoga
Hope Foundation Charity Class, 5.30pm, Wednesday 21st June 2023 To celebrate International Yoga Day (21st June), join us for a Charity Class with all proceeds going to the Hope Foundation to help street children in Kolkata, India. In return for helping others, you will be rewarded with a self-care class of meditation, yin and restorative yoga poses and end with a deeply relaxing yoga Nidra. Mindfulness meditation will help you relieve stress through exploring the habits of your mind. The passive Yin Yoga practice requires as much from the mind as the body as simple stretches are held for between 2-5 minutes, getting past the muscles to target the connective 'yin' tissues - joints, ligaments, tendons and fascia that wraps around your joints, muscles and organs. The class will move into some gentle restorative yoga poses to deeply calm and restore.  The class will end with a deeply relaxing guided yoga Nidra relaxation to ensure your feel grounded and relaxed both in both body and mind. A great way to end a busy week and support a great cause. HOPE is an Irish registered charity (CHY No. 13237), which was established in 1999 by Cork native Maureen Forrest. HOPE implements all its programmes in Kolkata (formerly Calcutta) in India, providing vital access to protection, healthcare, education, vocational training and emergency response programmes for street connected children and slum dwelling communities. The children and communities with whom HOPE work, are some of the most vulnerable and most disadvantaged in our world. More information on the work of HOPE can be found at www.hopefoundation.ie . If you cannot attend and would like to make a donation, it would be greatly appreciated. All proceeds from this class will go to the Hope Foundation.
€

20.00
Add to cart