Meditation & Tai Chi Classes
Showing all 3 results
Mindfulness Meditation & Tai Chi Classes
Meditation helps you change your relationship with stress and how you handle what life throws at you. A regular meditation practice can help copy with anxiety, anxiety attacks, depression and stress. Our classes are designed for beginner's looking to begin a Mindfulness meditation practice and learn relaxation techniques. Our aim that is you will have greater ability to cope with anxiety and stress, learn to relax and enjoy a greater enthusiasm and energy for life.
Tai chi is often described as "meditation in motion". It originated thousands of years ago in China as a martial art and seeks to use internal energy (Qi) for good health. Tai chi is a low-impact mind-body practice that involves a series of slow, flowing motions that combine movement, meditation, and rhythmic breathing. Tai Chi helps restore health, reduce stress prolong life, improve balance and heighten creativity. The regular practice of Tai Chi teaches you to relax your body and mind to develop natural awareness of yourself and your environment, helping you function more productively in day to day life.
Meditation & Yin Yoga
Mindfulness Meditation & Yin Yoga
5 Week Yin Yoga Course: 6.15pm, Thursday 8th July 2021 (Wk1 & 2: Online, Wk 3-5: In-studio) End your busy week with this beautiful calming and deeply relaxing mindfulness meditation and yin yoga class. Mindfulness meditation will help you relieve stress through exploring the habits of your mind. The passive Yin Yoga practice requires as much from the mind as the body as simple stretches are held for between 2-5 minutes challenging the mind to process negative thought patterns in a compassionate and accepting way. Body sensations are navigated by building inner stamina and endurance and developing a mindfulness based meditation practice. As a result, the entire body experiences deep rest. The long holds in Yin Yoga get past the muscles and target the connective 'yin' tissues - joints, ligaments, tendons and fascia that wraps around your joints, muscles and organs. Yin yoga will simultaneously promote and maintain mobility as connective tissue is safely and therapeutically stretched, stimulated and strengthened. This Yin Yoga practice will change the way you go through life, creating the internal peace required to "respond" instead of "react". Leave feeling relaxed both in body and mind. In the event of a Covid-19 lockdown, Yin Yoga classes will be delivered online via Zoom.
€

69.00
Read more
Restorative Yoga & Meditation Workshop
Christmas Unwind
In-studio Restorative Yoga & Meditation Workshop: 4.45pm, Thursday 23rd December 2021 Need to unwind and relax in the run-up to Christmas? Treat your body and mind as we ease in through meditation to help quieten the mind, followed by a series of calming restorative yoga poses to allow the mind to go into deep relaxation.  This is a very slow paced workshop using multiple props such as blocks, straps, bolsters or blankets to help you find a place of comfort and help hold the poses for a longer period of time.The workshop will end with a deeply soothing guided relaxation allowing you to leave feeling calm and grounded. Restorative Yoga offers a chance for the body and mind to take some well needed time out and unwind in a series of fully supported postures. Restorative Yoga and Meditation can help release muscular tension, boost your immune system and balance your nervous system. No previous yoga experience needed. Bring an open mind and heart and our experienced instructor will take care of the rest.
not rated
€

25.00
Add to cart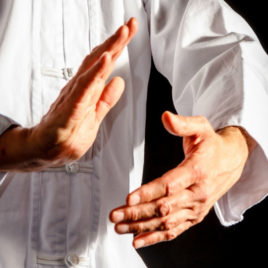 Tai Chi Class
Tai Chi
5 Week In-studio Tai Chi Course: 7pm, Tuesday 11th January 2022
Tai Chi is a gentle, low-impact ancient Chinese flowing form of meditative movement that has been practiced for centuries. A form of mind-body exercise, Tai Chi improves the flow of internal energy current ('Qi') for  better health and harmony in your body. A Tai Chi class consists of slow focused movements which improve strength, balance and flexibility. Tai Chi helps reduce stress and anxiety, aids relaxation and improves sleep. Recent research has shown Tai Chi to be beneficial in providing pain relief for certain conditions, particularly fibromyalgia and arthritis. Tai Chi is beneficial for all ages and fitness levels. Lead by
Celine McKeon
, experience a greater sense of well-being as Celine shares her passion for Tai Chi.
not rated
€

69.00
Add to cart