Meditation & Tai Chi Classes
Showing all 3 results
Mindfulness Meditation & Tai Chi Classes
Meditation helps you change your relationship with stress and how you handle what life throws at you. A regular meditation practice can help copy with anxiety, anxiety attacks, depression and stress. Our classes are designed for beginner's looking to begin a Mindfulness meditation practice and learn relaxation techniques. Our aim that is you will have greater ability to cope with anxiety and stress, learn to relax and enjoy a greater enthusiasm and energy for life.
Tai chi is often described as "meditation in motion". It originated thousands of years ago in China as a martial art and seeks to use internal energy (Qi) for good health. Tai chi is a low-impact mind-body practice that involves a series of slow, flowing motions that combine movement, meditation, and rhythmic breathing. Tai Chi helps restore health, reduce stress prolong life, improve balance and heighten creativity. The regular practice of Tai Chi teaches you to relax your body and mind to develop natural awareness of yourself and your environment, helping you function more productively in day to day life.
Meditation & Yin Yoga
Mindfulness Meditation & Yin Yoga
6 Week Yin Yoga Course: 6.15pm, Thursday TBA May 2020 (Suspended Covid-19) End your busy week with this beautiful calming and deeply relaxing mindfulness meditation and yin yoga class. Mindfulness meditation will help you relieve stress through exploring the habits of your mind. The passive Yin Yoga practice requires as much from the mind as the body as simple stretches are held for between 2-5 minutes challenging the mind to process negative thought patterns in a compassionate and accepting way. Body sensations are navigated by building inner stamina and endurance and developing a mindfulness based meditation practice. As a result, the entire body experiences deep rest. The long holds in Yin Yoga get past the muscles and target the connective 'yin' tissues - joints, ligaments, tendons and fascia that wraps around your joints, muscles and organs. Yin yoga will simultaneously promote and maintain mobility as connective tissue is safely and therapeutically stretched, stimulated and strengthened. This Yin Yoga practice will change the way you go through life, creating the internal peace required to "respond" instead of "react". Leave feeling relaxed both in body and mind.
€

78.00
Add to cart
Open to Spring | A Rejuvenating Yin Yoga Workshop
Open to Spring | Rejuvenating Yin Yoga Workshop
2-Hour Healing Yin Yoga & Meditation Workshop: 10.30am, Saturday 15 February 2020
While the dark winter months welcome a natural hibernation and cosiness, the first signs of longer days and Spring in the air bring a sense of newness and possibility. However, it can also be a time that we put a lot of pressure on ourselves to stick to resolutions made at the start of the year and come down hard on ourselves when we 'slip up'. In this workshop we'll bring both body and mind through this time of transition from a place that might be a little more helpful! Come join
Dee O'Hagan
for a calming 2hour yin yoga workshop: slow sequence of yin postures including hip openers, side bends and twists to shift any stagnant energy in the body and encourage detoxification. We'll also focus on moving forward with intention from a space of gentleness and self-compassion. This unhurried, meditative practice allows us to really tune into what we're feeling, creating possibility from this more positive, less self-critical place. To make sure you really float into Spring feeling renewed, finish with a Yoga Nidra, a deep guided relaxation that allows your body to rest deeply. All levels are more than welcome.
€

25.00
Add to cart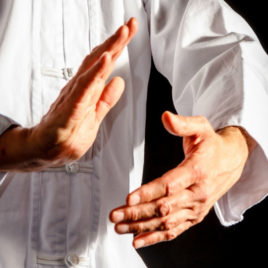 Tai Chi – Beginners
Tai Chi
3 Week Tai Chi Beginners Course: 6pm, Tuesday TBA (Suspended Covid-19) Tai Chi is a gentle, low-impact ancient Chinese flowing form of meditative movement that has been practiced for centuries. A form of mind-body exercise, Tai Chi improves the flow of internal energy current ('Qi') for  better health and harmony in your body. A Tai Chi class consists of slow focused movements which improve strength, balance and flexibility. Tai Chi helps reduce stress and anxiety, aids relaxation and improves sleep. Recent research has shown Tai Chi to be beneficial in providing pain relief for certain conditions, particularly fibromyalgia and arthritis. Tai Chi is beneficial for all ages and fitness levels. Experience a greater sense of well-being through the practice of Tai Chi.
not rated
€

39.00
Add to cart