Pregnancy & Baby Yoga
Showing all 2 results
Pregnancy Yoga Classes | Mum & Baby Yoga Classes
Pregnancy is a special time in your life, a time to nurture yourself and prepare to welcome your baby. Pregnancy Yoga classes and Mum & Baby Yoga classes are perfect for any level of yoga experience from beginner onward.
Click Pregnancy Yoga or Mum & Baby Yoga below to book your yoga class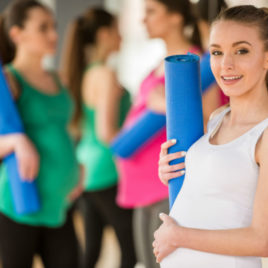 Pregnancy Yoga (14+ wks)
Pregnancy Yoga | Prenatal Yoga
7 Week Prenatal Yoga Course (14+ weeks pregnant): 7.20pm, Wednesday 6th November 2019 Gentle and safe pregnancy yoga is open to all levels and offers a refuge of peace and inspiration to celebrate your body and baby throughout pregnancy. Pregnancy Yoga classes focus on breathing, gentle stretching and include a generous relaxation to totally let go. Prenatal yoga offers many wonderful benefits for the mother-to-be. Gentle stretching exercises will help ease new aches and pains of pregnancy that you may not have experienced before such as lower backache. Pregnancy yoga can help to strengthen the muscles in the back which help to support the weight of the baby. Prenatal classes also teach breathing methods to stay focused and keep the body and mind relaxed during labour. As the body's balance is altered during pregnancy, prenatal yoga may help with stability. Pregnancy yoga can also ease the discomforts of pregnancy, such as moodiness, shortness of breath, swollen ankles, nausea, indigestion and insomnia. Pregnancy yoga classes will teach you yoga postures to help you be more comfortable throughout your pregnancy, relaxation techniques and yoga for birth, allowing you to approach labour calmly and confidently. Classes are also a great way to meet other mums-to-be especially if you are new to the Clane area and a lovely safe space to share concerns and excitement.
not rated
€

91.00
Read more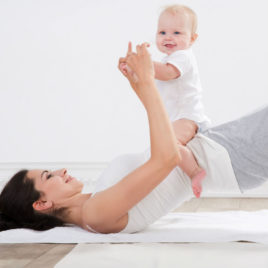 Mum & Baby Yoga
Mum & Baby Yoga Class
5 Week Mother & Baby Yoga Course: 11am, Tuesday 19th November 2019 Yoga for mothers and babies. Postnatal yoga for Mammys including beginners and babies (not yet walking). Enjoy an informal yoga class with your baby while you regain strength and flexibility following your pregnancy. Enjoy gentle yoga poses, modified to include baby allowing you to bond in a shared fun activity and make friends with other Mams. Duration 1 hour.
not rated
€

65.00
Add to cart